We have checked in for the week at Montana's newest glamping experience, Glacier Under Canvas, which opened last month to mixed reviews. After our first night, we have decided that those who gave it a negative review are your typical high maintenance people who won't be happy with anything short of The Ritz and shouldn't be camping anyway.
As far as camping goes this is The Ritz! We all have beautiful tents with stoves and king size beds or twin beds along with dressers etc. The only downside is the food policy of no open food in the tents or campground, but we just brought the RV for our own cafe' and are eating like kings without going far from our tents. Shane and I have our own private bathroom but even the community showers are far nicer than any KOA or campground.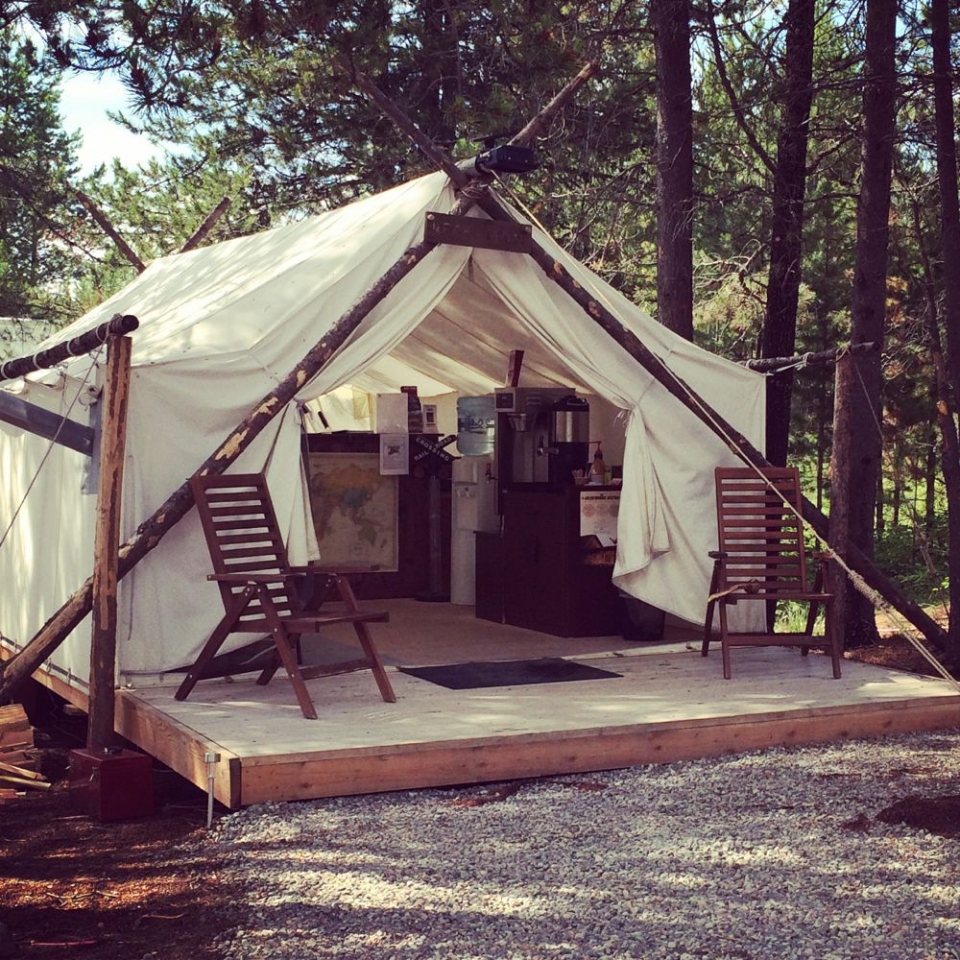 It didn't take long for the kids to get settled into their tents.  We also discovered that none of them had listened to hardly anything we had told them about what we were doing, where we were going and what to expect.  The upside to that was that all of them were pleasantly surprised to discover the luxurious tents they were about to spend the next three days living in.  Caleb was most excited as he has made it very clear that he doesn't like camping, glamping or whatever you want to call it.  Once he saw his tent he plopped down on the bed and deemed this the best camping trip ever.
Emily, Morgan and Jude opted to share a tent as they are inseparable these days and within 45 minutes had it decorated with all their special things they had insisted on bringing from home…including two One Direction cut outs that Emily and Morgan were toting around the camp and taking pictures of for their Twitter and Instagram posts.  And John Michael was busy digging anything and everything up.

After sleeping like babies our first night, we were headed to Glacier National Park to take the 5 mile round trip hike to Avalanche Lake.  The hike and the lake were breathtaking. At first the kids were moaning and groaning but soon they were having a great time and enjoying their accomplishments along the way.
Next we were off to swim at Lake Five just up the road from out camp.  The water was perfect and the views of Glacier were spectacular.
Day two we were all heading separate ways.  Shane, Caleb and I drove to McDonald Lodge and went horseback riding with Swan River Outfitters.  This was my first time ever going horseback riding and it was so much fun.  We were out for over two hours and the views of Lower and Upper McDonald falls were extraordinary.  Melanie went with Emily, Morgan and Jude whitewater rafting on the Flathead River.
After a bite to eat and little rest we were off to pick huckleberries and take another swim in the lake.  The huckleberries were pretty plentiful, but we were sure there was a mother lode we hadn't found yet.  Following our huckleberry picking we met back up with the rest of crew and took the boat tour on McDonald Lake.

Our final night at Glacier Under Canvas brought the sounds of an elk herd through camp.  Regardless we all slept so well and morning brought cooler temperatures and Shane and the girls got up early and found the mother lode of huckleberries.  Once we had everything packed up we decided to hit the huckleberries on our way out with the whole family picking and loading them up.  When we got home I washed, dried, bagged and weighed the huckleberries to the tune of 10.5 lbs!  By the time we went to bed, I had made a huckleberry cheesecake and huckleberry bread.