For Christmas Shane and I decided not to buy the kids gifts, instead Shane made it possible for me too make everyone something by picking up the slack in so many ways to free me up to make and create.  Along with the handmade gifts, we wanted to give the kids the gift of a memory they will never forget.  We looked into several options and  decided on a snowcoach tour of Yellowstone National Park.
Thanks to everyone who contributed to this once in a lifetime outing for all of us. A winter visit to Yellowstone National Park means snowy landscapes, steaming geyser basins, and incomparable wildlife viewing, but you can't just drive into the park by car to enjoy these things.  Instead you have to go by snowcoach or snowmobile.
We started out by loading up the kids and driving to West Yellowstone where we stayed at the Three Bear Lodge.  The drive was beautiful through Norris and Ennis with breathtaking views of Granite Mountain and Henry's Lake all of which was covered in fresh snow giving Rebekah her first experience of driving in true Montana winter conditions.  She did a great job!
Once we got the kids settled in their rooms at the lodge, we got bundled up and walked into town to find something to eat.  The Slippery Otter is where we wound up and had a fun dinner before heading back to the lodge.
Sometime around midnight there was a knock at our door.  Upon answering Rebekah informed us that Emily was sick and throwing up.  I checked on her and we both thought she was sick from eating fried food.  I told her to text me if it continued and headed back to bed.  I didn't realize that my phone had died and had no idea that she was still throwing up about every half hour for the next two hours until Shane got a text from the boys' room from Lucas telling him that he was throwing up as well.  At this point we knew it had nothing to do with the food because Lucas and Shane had shared a meal and Shane wasn't sick.
Emily and Lucas were sick all night and by morning we were faced with some difficult decisions.  There was no way to reschedule as they coaches were booked solid through January 2, 2015.  So it was now or never.  For Lucas there was no debate,  he said if I'm gonna be sick it will be on the coach in Yellowstone, but I'm not missing it.  Fifteen minutes before it was scheduled to leave, Emily decided the same thing and we were off.  By the end of the day, we were all glad that they had toughed it out.
See for yourself…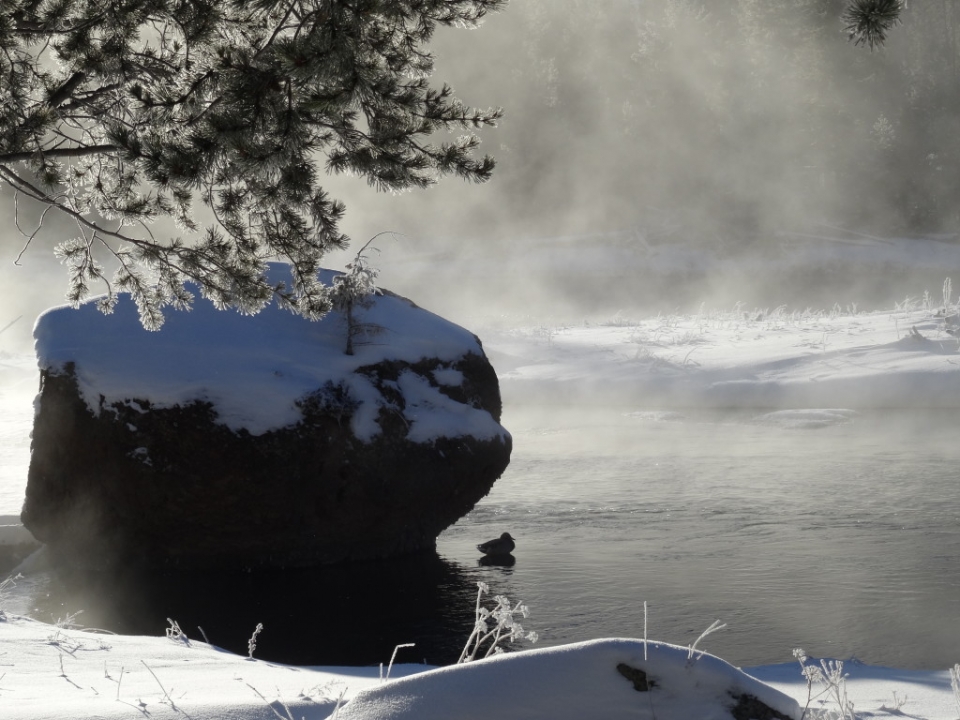 By the end of the day we were headed back to Missoula, but not out of the woods with sick kids.  While Lucas and Emily were recovered from their bug, Rebekah was beginning to experience the exact same symptoms.  I won't go into detail, but the drive took much longer for the "sick car" and the outside passenger side needed a car wash. Gross!
Since Lucas' family cannot access the YouTube videos with music, here is a short tour just for them.